Introducing Dr Patrick Dixon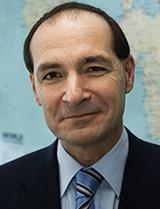 Dr Patrick Dixon is Chairman of Global Change Ltd, advisor on strategy to senior teams of many of the world's largest companies. He is author of 16 books on global trends – including:
The Future of Almost Everything,
Futurewise, SustainAgility
The Truth about AIDS
Signs of Revival
The Truth about Westminster.
Often described as Europe's leading Futurist, he has also been ranked as one of the 20 most influential business thinkers alive today, and lectures in up to 20 nations a year. His clients include Google, Microsoft, BP, Bank of America, General Electric, Phillips, Airbus, Prudential, Aviva, American Express, Fedex, BP, Siemens, Unilever and HSBC.
He is a physician by first training, and specialised in palliative care for those with cancer. He is the founder of the international church-based AIDS agency ACET which began in Dundee and London in 1988, active today in 18 nations ranging from Uganda to Zimbabwe, India to Thailand. Patrick is married to Sheila, they have four grown up children and live in West London, where they are both actively involved in a local church.
Sir Brian Souter, Chairman of Stagecoach Group Plc, comments on Dr Dixon's latest bookThe Future of Almost Everything "A brilliant guide to our future, which should be read by every decision-maker, packed with deep insights on a huge number of trends. Patrick Dixon has a great track record over many years in forecasting opportunities, risks and challenges that will affect us all."
For more on Patrick Dixon, his books and videos, visit at www.globalchange.com